Our Nursery teacher is Katy Laws and our Nursery TAs are Sally Blasi and Diana Drukteiniene. Nursery attend school for three hours each morning. Their classroom is in the Early Years Building where they have their own outdoor learning area.
Early Years Overview
Below you can find the overview of the learning that takes place in Early Years.
Must Read Books
Below you will find links to some of the must read books for Nursery.
Our Garden Update
Our vegetables have started to get big and we have even started to pick some of them! We have a bumper crop of radishes and lettuce!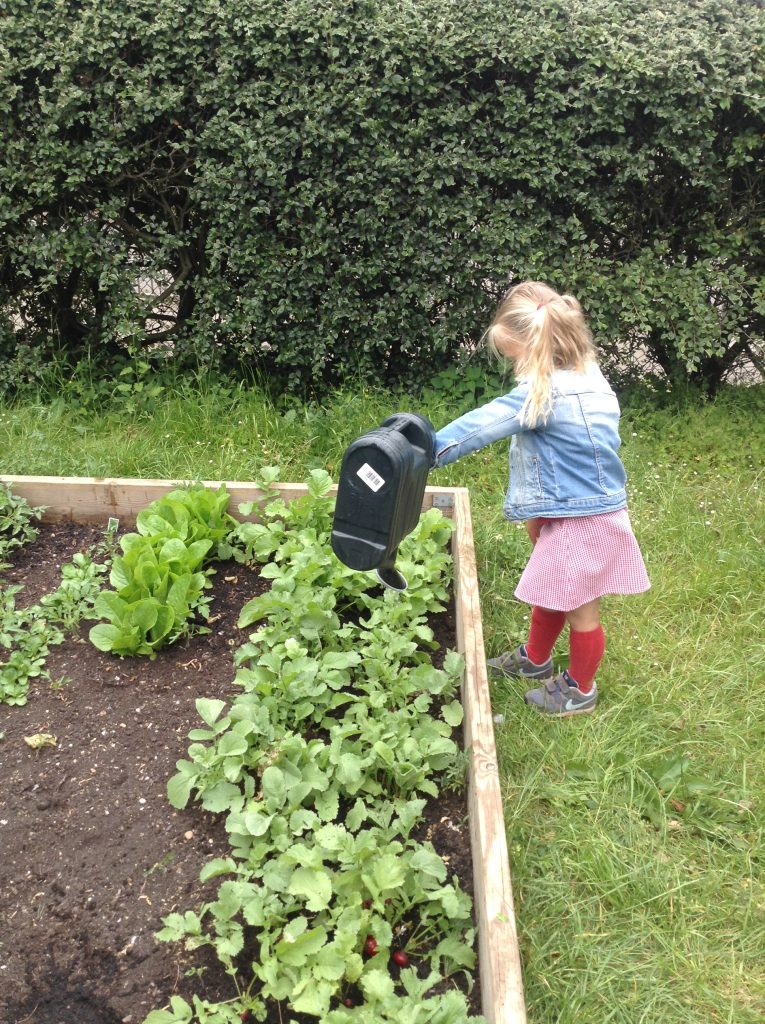 Pentecost Retreat
Nursery spent the morning learning about Pentecost and taking part in special craft activities. It was a lovely morning.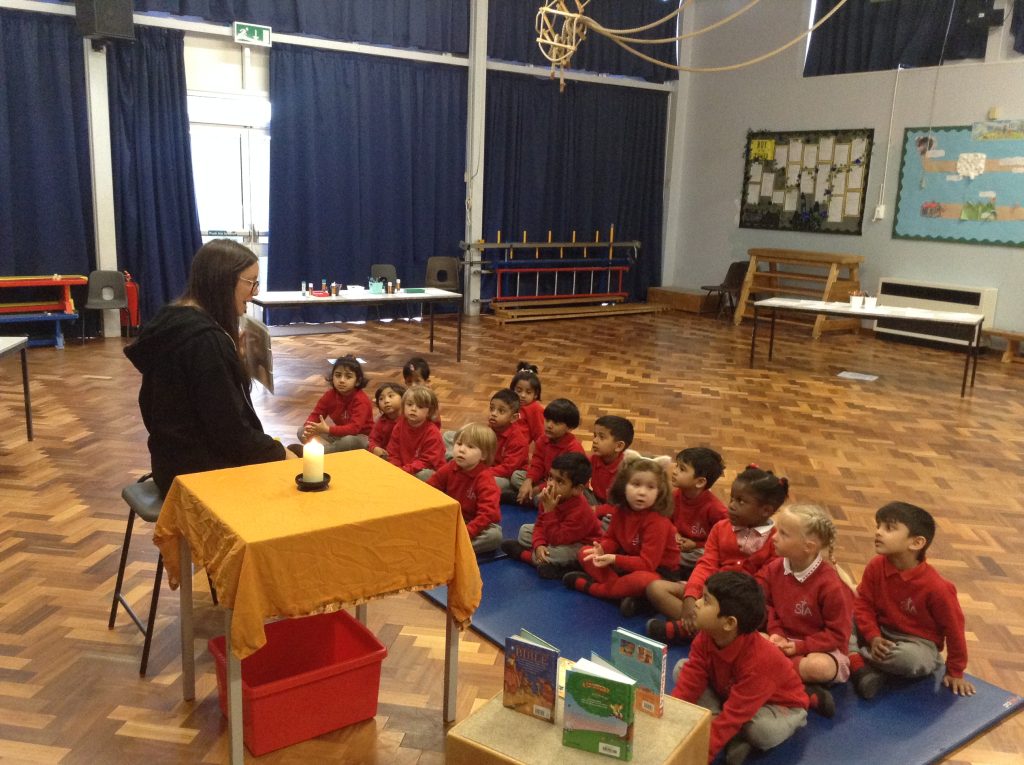 People who help us
Nursery have been learning about the Police, Fire Fighters and doctors. They have learnt about what they do, what they need and how we can keep ourselves safe. We had a visit from a real police officer and we also had a race where we had to compete to empty our bucket of water the quickest and help the firefighter fill up his! It was great fun.
Reading Celebration Morning
At the end of May our parents were invited in to read to us their favourite books. It was so lovely to have them visit us and the children really enjoyed hearing new books. Elijah's mummy included some brilliant actions and asked lots of good questions, Airen's mummy bought in a very popular dinosaur story, Jack's Daddy told a very funny story which had the children all laughed and Anna's mummy shared a Polish story with us!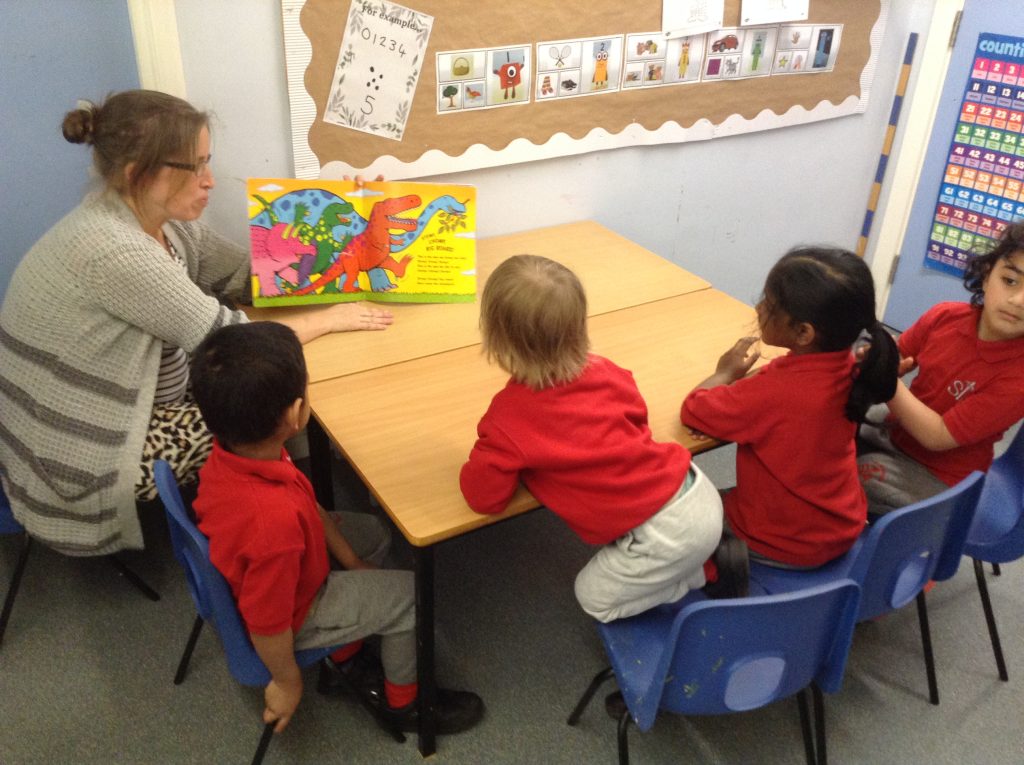 Our Garden
Our vegetable garden is coming along nicely. The radishes are growing the quickest! We have been making sure we water them daily as it has been very hot lately.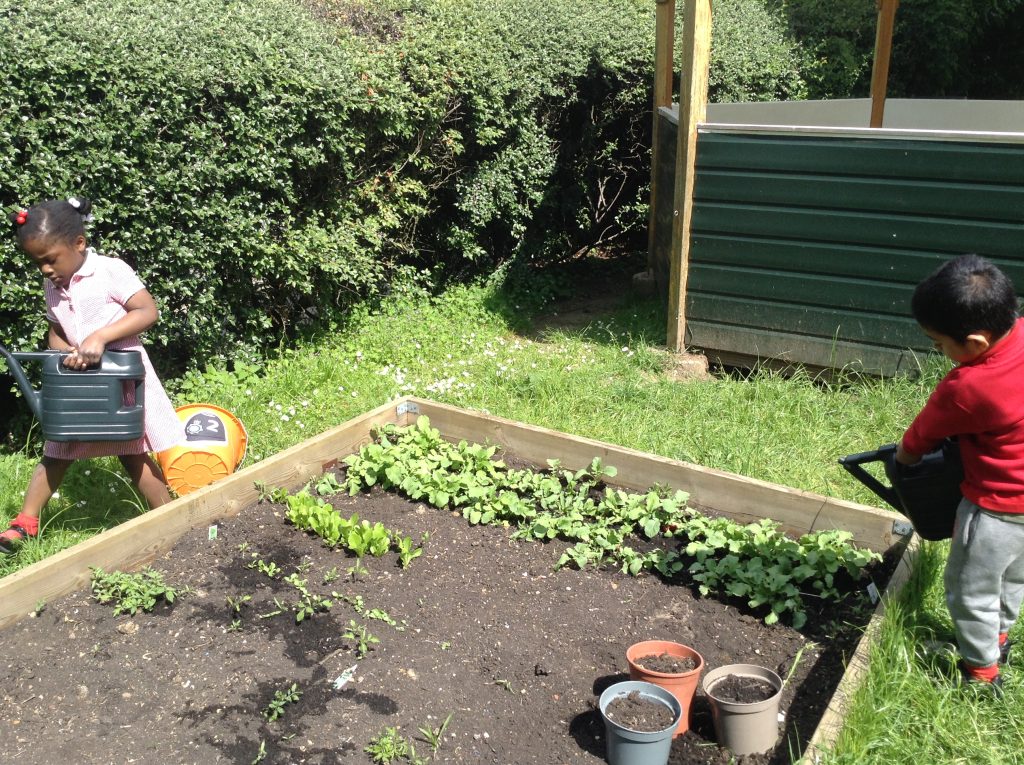 The King's Coronation
We have been celebrating the Kings Coronation. We had a big party where we decorated cakes, had a tea party and played party games. We have been reading The Runaway Crown and have learnt about positional language.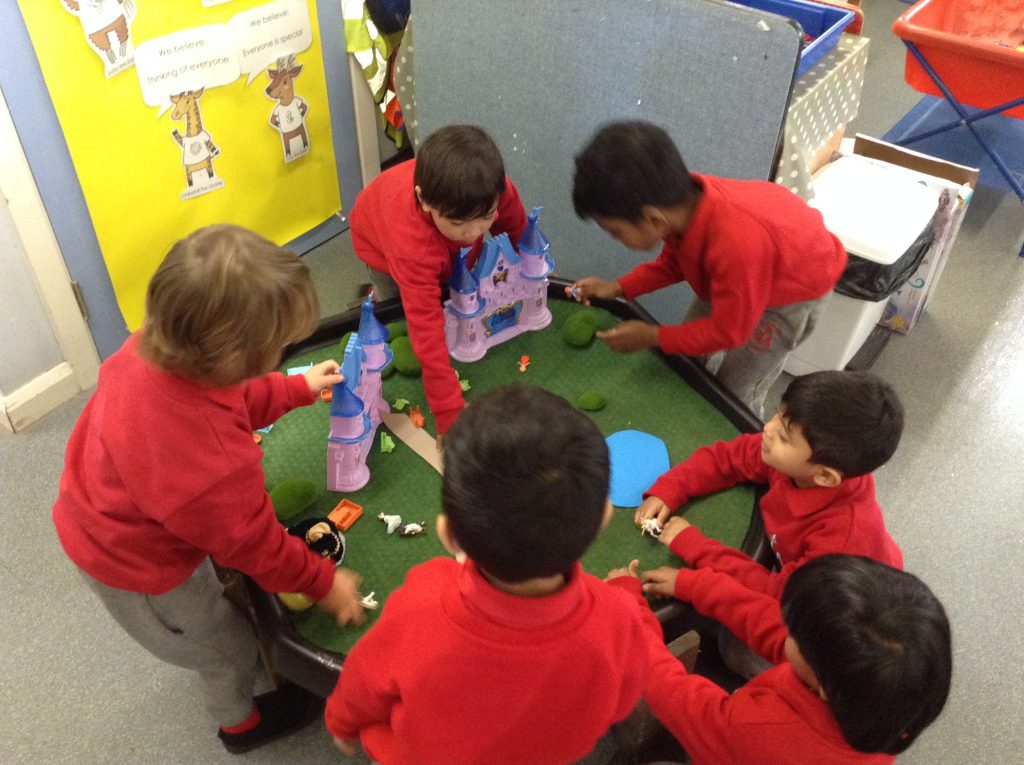 Ark Farm Visit
Nursery were very lucky to have a visit from Ark Farm. They were allowed to meet and stroke all of the farm animals. It was lovely seeing some of the children who were nervous in the beginning become confident around the animals. The farm dog was a big hit!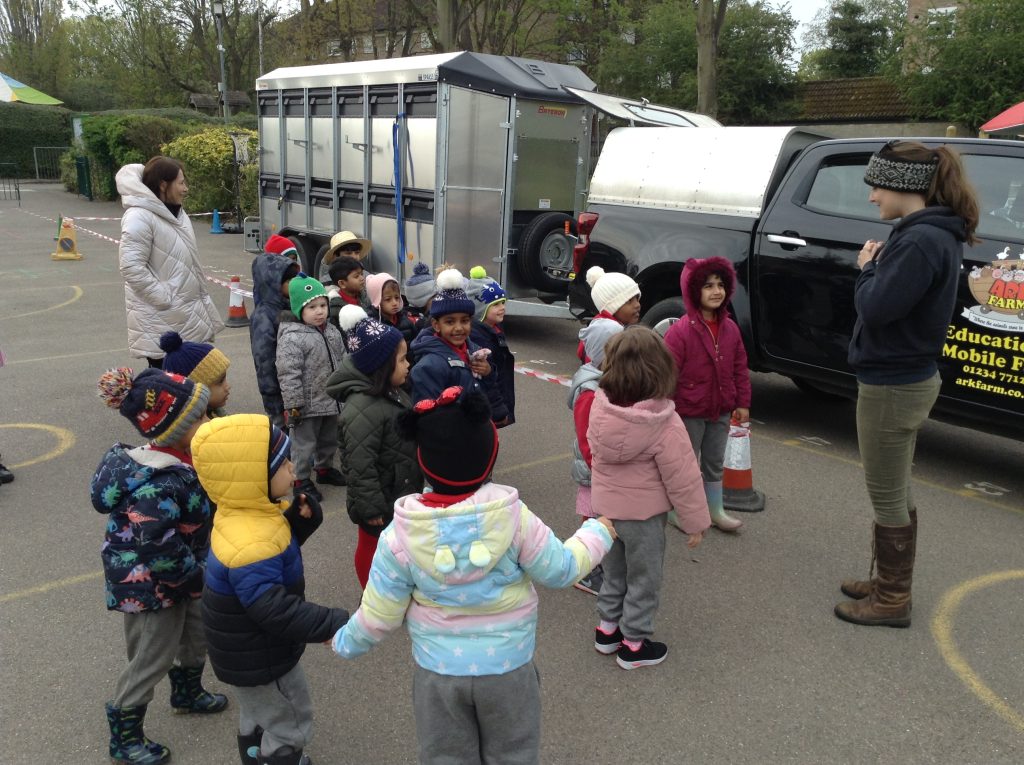 Spring
Nursery have been learning about spring and in particular about all the new life we can find around us during this season. They really enjoyed taking part in an Easter Egg hunt and learning about the life cycle of a chick and seed.
Little Red Riding Hood
We have been sorting fairy tale characters into heroes and villains and have been sorting the food in Little Red Riding Hood's basket into healthy and unhealthy.
The Three Billy Goats Gruff
We have continued our Fairy Tale theme and have been reading The Three Billy Goats Gruff. We made our own bridges to help the goats cross the river and we used our imaginations to design our own trolls!
Goldilocks and the Three Bears
Nursery have been reading Goldilocks and the Three Bears. We made our own porridge by following instructions and ordered things according to size.
World Book Day
In March, Nursery celebrated World Book Day. We all dressed up as our favourite characters including The Tiger who came to Tea, the Very Hungry Caterpillar, Peter Rabbit and many more fabulous costumes. The children took it in turns to act like their character. We have some wonderful actors in our class!
Hot Lands
We have been learning about Africa. We sorted animals according to which continent they live on and learnt about camouflage and how this helps animals to live safely in their habitat. We read Handa's Surprise and not only learnt about the different animals you can find in Africa but also different exotic fruits.
Valentine's Day
Nursery celebrated Valentine's Day by preparing lots of lovely cards, flowers and tasty treats for their families.
Helicopter
An emergency helicopter had to land in our school field and the Nursery children were lucky enough to be invited by the pilots to come and have a closer look at it.
National Story Telling Week
We celebrated National Story Telling Week by inviting over teachers from older classes to come and read to us. It was lovely listening to their favourite stories and sharing some of ours with them.
Patterns
We have been reading 'Please, Mr Panda' and learning all about patterns. We learnt about different types of patterns like stripey, zig zag, wavy, spots and spirals and also learnt how to continue a repeated pattern.
Chinese New Year
Happy Chinese New Year! We have been learning all about China and how people celebrate Chinese New Year. We read 'The Great Race' and learnt about how the Emperor gave each animal a year of the Zodiac. This story helped us to learn how to put numbers in order. We also had our own Chinese feast where we tried to use chop sticks instead of a fork!
Cold Lands
We have been learning about penguins in Antarctica and Polar bears in the Arctic. We have been looking at the globe to find both areas and think about what the weather is like there. We pretended to move like penguins by waddling with straight legs, sliding on our tummies and balancing 'eggs' on our feet. We have also been practising cutting with scissors to make our own polar bear masks.
Under the Sea
When have been learning about creatures who live under the sea. We read 'Bored Claude' by Jill Newton and 'The Rainbow Fish' by Marcus Pfister. We used magnetic rods to 'go fishing' and learnt how to play matching pairs by looking carefully at the patterns on each fish.
Mr Joe
Over November and December Mr Joe has been visiting Nursery to sing with us. He has taught us many nursery rhymes and Christmas songs and we taught him some songs too. He has also taught us the different parts of his guitar and what each part does and explained some tricky terms like tempo and pitch.
Colour Week
This week we learnt about colours and how when you mix them together you create new colours. We read 'Mixed' by Arree Chung and explored the artwork by Alma Thomas.
Autumn
We were learning about Autumn. We explored conkers, pinecones and acorns and learnt about animal who are getting ready to hibernate. We also explored pumpkins- thinking about their size and weight and getting messy by taking out their seeds. We also went on an Autumn leaf hunt around school and made our own leaf coloured playdough.